Sacral / Void Angel - Crucible of Utopia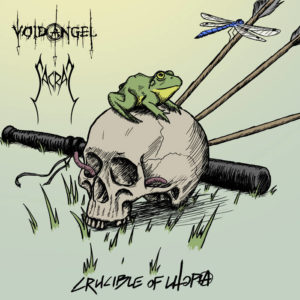 El pasado 3 de Julio de 2021, Sacral y Void Angel unían fuerzas para publicar un EP titulado Crucible of Utopia. Ambos proyectos, nacidos de, por y para la rebeldía, abordan sin ambajes los problemas sociales de mayor calado. El monopolio policial de la violencia, la destrucción de nuestro planeta o los múltiples rostros que el fascismo muestra en diferentes ámbitos de nuestra sociedad, son algunos de ellos.
En total nos presentan 6 temas de black metal rabioso y contestatario. Más directo y cercano al black tradicional en el caso de Void Angel, mientras que Sacral opta por una producción más cruda y algunos fragmentos que se escoran casi hasta el black thrash.
Una banda sonora perfectamente adaptada a todas las formas de resistencia, cuyos beneficios íntegros se destinarán a la Residential School Survivors Society.
Podéis Crucible of Utopia en el bandcamp de Sacral y de Void Angel pagando un importe voluntario, que ayudará a devolver algo de la justicia arrebatada a los pueblos indígenas durante generaciones.