Gråt Strigoi – Communion of the Nameless
Antifascismo abisal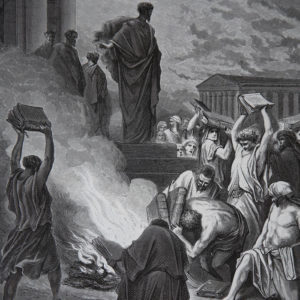 Desde Glasgow, el dúo Gråt Strigoi mantiene la impresionante media de lanzamientos de un disco anual. El pasado Junio presentaban Communion of the Nameless, tercer álbum desde su debut en 2019.
Con el antifascismo por bandera, blanden un black metal depresivo, muy atmosférico y con grandes dosis de disonancia. Alternando cadencias doom, fragmentos ambientales, y grandes dosis de entropía en forma de black metal con la oscura melancolía del depressive, plasman un óleo sonoro lóbrego, caótico y rabioso.
Gracias a un extraordinario manejo del tiempo y el ritmo, la música fluye pausadamente, pero erigiendo con firmeza toda una estructura sonora poderosísima. Communion of the Nameless atrapa y consume, araña el alma y cautiva el oído hasta la extenuación.