Devil city cult – World´s true enemies
Que arda la ciudad.

Avalados por una trayectoria en la que figuran nombres como Terroristars, Coilbox, Iraka o Cuernos de chivo, Devil city cult surge desde las profundidades urbanas para presentar su primer EP World´s true enemies.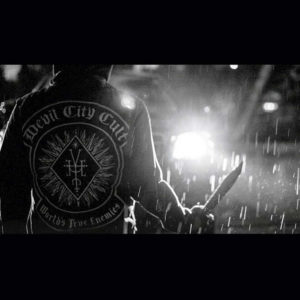 Aunque radicados en Madrid, su espíritu tiene su origen en cualquier espacio urbanita moderno, más allá de los carteles publicitarios, las zonas verdes y la propaganda turística, allí donde germina la verdadera naturaleza de las ciudades. Oscuros agujeros donde crece la maldad y la locura se extiende bajo muchos y variados nombres.
El experimentado trío descerraja toda su rabia en cuatro cortes directos de blackened hardcore crudo y sin concesiones. Con un equilibrado sentido de la cadencia se mezclan pasajes rápidos y furiosos con otros más contenidos a medio tiempo, aderezados con unas guitarras muy herederas del black metal noventero. Aun con la vista puesta en bandas como Darkthrone, Mayhem  o Emperor, existe también una proyección más moderna de su sonido, con una producción que dentro de su crudeza suena excelente, junto con algunos toques experimentales de noise que terminan de completar una fórmula sin fisuras.
La presentación de su primer videoclip "The death and the knife" supone la primera piedra de un legado musical que esperamos aumente en poco tiempo.