Pyre – Chained to ossuaries
Death metal sin adornos.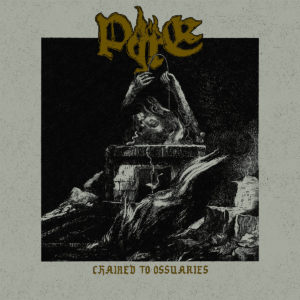 Afortunadamente el metal ha experimentado en los últimos años una expansión que ha llevado a la fusión de múltiples géneros y a la continua experimentación de nueva fórmulas y sonidos. Pero a veces también reconforta sumergirse en la familiaridad de lo clásico. Nada menos que seis años han pasado para que el fuego de Pyre vuelva a avivarse con su segundo álbum Chained to ossuaries. Old school death metal crudo e infecto, directo a la corteza auditiva ¿no es suficiente aliciente?.
Respecto a su debut han ajustado su cadencia incorporando más medios tiempos al estilo Asphyx que, alternados con los frenéticos pasajes de ritmo intenso, han dado cierta profundidad a su sonido. Como rasgos más característicos encontramos el despliegue de incontables solos, hasta dos o tres por tema, una voz rugiente a buen nivel y una batería que retumba a plena potencia (con un exceso de volumen en la mezcla en ocasiones).
Pyre apuesta por el sonido contundente, directo y sin adornos. Una apuesta segura.