Dyscarnate – With all their might
Con todos vosotros el smash metal: death metal que aplasta.
Advertencia: hacer ejercicios de calentamiento de cuello antes de darle al play.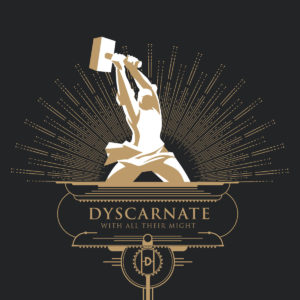 Ésa es la mejor recomendación que podemos hacer antes de ponernos a escuchar a Dyscarnate, una banda inglesa de death metal moderno formada en el no tan lejano 2004. Mejor vamos a llamarlo smash metal, porque los riffs de estos salvajes literalmente aplastan. No es de extrañar que en la portada del disco del que vamos a hablar en esta reseña aparezca un señor con un mazo enorme. Mensaje claro.
"With All Their Might", lanzado en 2017, es el tercer LP del TRÍO inglés. Ponemos "trío" con mayúsculas porque es más que destacable el hecho de que son tres (batería, bajo y voz, guitarra y voz) pero suenan como veintisiete, en gran parte gracias a la brutal producción que lleva detrás. Unas guitarras rápidas, altas, brillantes, repletas de palm-mutes, acompañadas de una línea de bajo solidísima y una batería machacante cual martillo pilón que completa la contundencia de sus canciones, con breakdowns por doquier. Ahora hay que sumarle el juego de voces a cargo de Tom (guitarra) y Al (bajo), que, sonando uno más gutural y otro más agudo, se van turnando en una compenetración y simbiosis casi perfecta. Claro ejemplo de esto son las poderosas "This Is Fire!" y "Iron Strenghtes Iron".
También encontramos su punto de oscuridad, nocturnidad y alevosía en cortes como "Traitors In The Palace" y "Nothing Seems Right". La primera con un in crescendo incendiario que culmina en una explosión de fuerza y mala leche. La segunda con claras reminiscencias de grupos como Gojira o Dying Fetus, donde predomina un ambiente oscuro y pesado a pesar de sus rápidos riffs.
Sin duda uno de los álbumes más completos, contundentes y directos del 2017, que hace que Dyscarnate, a pesar de no gozar de la fama de bandas afines en estilo como Decapitated o los ya mencionados Gojira, se hayan ganado un sitio en el olimpo del death metal moderno.
Perdón, del smash metal.